Warrawoona
East Pilbara, Western Australia
6 Years (Dec 2026)
Duration
The Warrawoona Gold Project is located in the East Pilbara Goldfields of Western Australia. The Calidus Resources owned mine is a high margin and significant undeveloped gold project in Australia.
Macmahon was awarded a contract to develop a new open-cut mine, with the scope of works expected to include all open cut mining activities until December 2026.
This contract is in addition to the early-stage civil works Macmahon is currently undertaking on-site with 65 personnel.
The Company expects the main mining equipment to arrive on-site in the first quarter of 2022, with the project to eventually employ around 120 Macmahon personnel.
We need to walk the same walk and build a clear pathway to keep people safe and build a supportive culture. Safety is an outcome of integrity and pride and looking out for each other.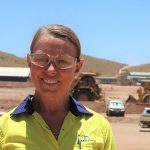 Sheryl Neil
HSEQ Advisor, Warrawoona
We provide world-class mining and infrastructure contracting services
Surface Mining
Macmahon's mining services has established a strong reputation within the resources sector, with surface mining operations in Australia and Southeast Asia.
Surface Mining
Underground Mining
Our underground mining capabilities range from total mine development and production to specialised services to meet the short and long-term requirements of our clients.
Underground Mining
Mining Support and Civil Infrastructure Services
Macmahon offers a wide range of civil construction, engineering and business improvement consulting services for projects both above and below ground.
Mining Support and Civil Infrastructure Services