Our achievement is not just a reflection of our work but also a testament to the dedication of our entire team, including 17 individuals who have celebrated significant service milestones, reaching the impressive ten-year and five-year marks.
Let's take a closer look at some of our recent works under our civil mine services, rehabilitation and environmental management contracts:
1. Ensuring Safe Transportation
We play a pivotal role in maintaining a safe and efficient light vehicle road network across the site, ensuring all operations run smoothly. Our expertise extends to crucial tasks like dragline and drill bench preparation.
2. Tackling Dust Issues
Dust suppression is a priority for us, and we implement effective measures to minimise dust across the site, creating a healthier and more comfortable working environment.
3. Environmental Responsibility
We take our environmental responsibilities seriously. Managing the drainage network and performing wet season preparedness works are among our key contributions to safeguarding the environment. Additionally, our commitment extends to managing fire break construction and high-risk bunding to ensure compliance with circuit safety standards.
4. Land Rehabilitation
We're working towards rehabilitating mining landforms, ensuring they are ready for sustainable use in the future.
5. Tailings Dam Improvement
We're making a difference by removing tailings and remediating the area at the Three South Tailings Dam. Our trucks and dig units are instrumental in this critical task.
6. Site Engineering Expertise
Our expertise isn't limited to the field; we also provide essential site engineering services. From designing and constructing infrastructure works to pontoon walkways for safe access to pumps on multiple dams and boat ramps for secure pump installation access – we've got it covered.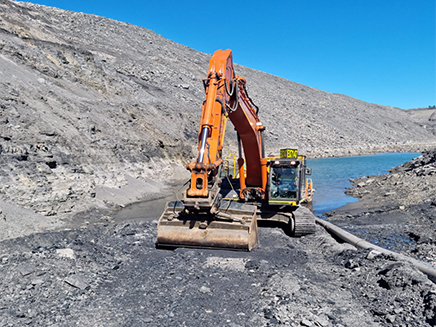 7. Geotechnical Excellence
We understand the importance of stable and durable infrastructure. That's why we are involved in supporting geotechnical works, including test pits for infrastructure development and mine expansion.
8. Comprehensive Construction
From building roadways to construction laydown areas, offices, and build pads – we manage all aspects of infrastructure construction to support efficient mining operations.
At Macmahon, we're not just building infrastructure; we're building a legacy of safety, excellence, and environmental responsibility.