Telfer Gold Mine
Great Sandy Desert, Western Australia
The Telfer Gold Copper Mine is located in the Great Sandy Desert in the East Pilbara region of Western Australia.
Telfer is a fly-in-fly-out operation, 400 kilometres southeast of Port Hedland and approximately 1,300 kilometres from Western Australia's capital, Perth.
Macmahon was awarded a rolling contract until 2022 which commenced in February 2016. It will see Macmahon providing the full scope of services for open pit mining and bulk earthworks, including drill and blast, mining waste materials, equipment hire and subcontracting.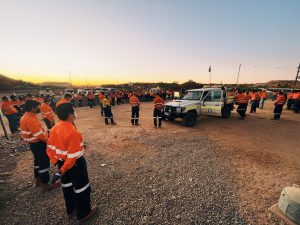 I'm grateful to have the support of my fellow greenie DTO's, the trainers and other experienced operators who have helped my transition to mining and gain my new skills as a competent DTO. Mining has shown me how to work more closely with fellow employees and has exposed me to learning more about the many different personalities of others.
Graeme Smith
Operator, Telfer
What We Do
We provide world-class mining and infrastructure contracting services
Surface Mining
Macmahon's mining services has established a strong reputation within the resources sector, with surface mining operations in Australia and Southeast Asia.
Surface Mining
Underground Mining
Our underground mining capabilities range from total mine development and production to specialised services to meet the short and long-term requirements of our clients.
Underground Mining
Mining Support Services
Macmahon offers a wide range of civil construction, engineering and business improvement consulting services for projects both above and below ground.
Mining Support Services